SUMMER FASHION IS HERE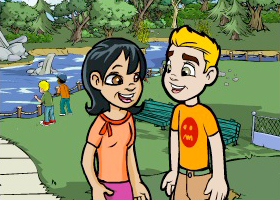 By Everett F. Stevens
Staff Writer
Thursday, June 5, 2008 — As the weather warms up, the citizens of Millsberry are wondering what to wear.

Once again, it's time to break out those summer clothes and gear up for vacation time. Many are faced with the familiar problem that presents itself this time of year: How do I put a new spin on summer style?

Does wearing less clothing give you less of an opportunity to show your style? Are you forced to sacrifice personal style for the sake of staying cool?

Some would argue yes, but, in fact, it's quite the opposite. The less articles of clothing you wear, the more attention you'll bring to those particular look and style of those pieces. The odds of looking fabulous are really in your favor during the summer months.

We enlisted the help of Loretta Rivers, resident fashion guru and owner of the Clothing Store, for some tips on how to keep it classy during that warm summer weather.

"The first thing you want to keep in mind about summer fashion is that light fabric is key. Not only does it keep you cool, but they're also an opportunity to mix and match different styles", said Loretta, as she thumbed through a rack of summer dresses.

"Sometimes it's good to even wear more than one shirt, as long as the shirts are light. Tank tops are really in right now."

Loretta then moves to a table presenting an assortment of handbags.

"Hand bags are another way to really give your outfit that extra flare that's missing. Of course, with any bag, you have to find the way to wear it that best suits you and your personal style."

Loretta quickly turns and sashays over to the sandals collection.

"Five years ago, sandals were out, but now they're in. They're the new flip flops, and now flip flops are out. That's fashion for you though. It's always changing. I love it. Now, lets not forget eyewear. A pair of sun glasses can make or break an outfit."

As she says this, she scurries over to the eyewear department.

"You have to make sure you have a solid pair of sun glasses for summer. Something that looks great, but also something that you're going to be able to wear in other seasons as well."

It seems during summer, less is more. Thanks to Loretta, staying cool and looking great are back in style.
---
SUMMER TIME FUN

Thursday, June 5, 2008 — There's so much to do during summer. Sometimes it can be hard to figure out what you want to do. Summer is only 3 months long, so make sure you don't spend too much time wasted. The best thing to do is to get outdoors. If you enjoy reading, try taking your favorite book outside. A trip to the beach is always a fun adventure. Or, maybe if you like sports, you can get out and throw the football around. If you do go outside, make sure you're wearing enough sunscreen. One thing's for sure, sunburns aren't fun.