DOG DAYS OF SUMMER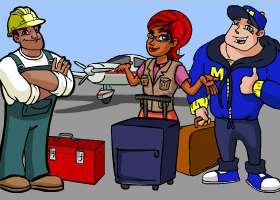 By Everett F. Stevens
Staff Writer
Thursday, August 14, 2008 — In case you haven't noticed, summer is fleeting as we speak.

The season is almost over, but as it winds down, many are taking advantage of those last opportunities, trying to squeeze every remaining bit out of summer's final days.

We caught up with a few of Millsberry's citizens to see what they were up to, starting with Coach Danner.

"Well, I'm actually taking a trip to visit some relatives in Arizona. I haven't seen them in a while. And, since my cousin is a coach too, I'm going to help him train his high school football team."

While I'm there," Coach added, "we're going to see the Grand Canyon. I've never been before, so I'm looking forward to that.

Across town, Loretta Rivers is gearing up for her big trip to Paris, France.

"I'm really excited about my trip to the City of Lights. Traveling is always great for creative inspiration, but Paris is the center of the universe when it comes to fashion, so it's even more exciting."

"I never find what I expect to find,"Loretta added, "but the fashion is always amazing. It's great to have that surprise aspect to the trip. It's definitely a search-and-discover process. But the world is a vast and wonderful place, so why not explore it all"

Hardware store owner Pete Peterson will be spending his time on a different kind of trip-one to help those in need.

"I'm traveling down to New Orleans to volunteer my time and construction expertise, to help in the rebuilding of the city."

"It's been quite some time since Hurricane Katrina, but there's still a lot of work to be done. The more that people help, though, the quicker the progress will be."

"I always get a great feeling from helping people, and from knowing that I did something to positively impact so many people's lives.

Sometimes the journey is more important than the destination.

Safe travels to all.
---
PACK YOUR BAGS

Thursday, August 14, 2008 — There are some new items hitting stores this week-just in time for your big end-of-summer trip. If you want to follow Pete's lead, there's a shiny new tool belt to hang your hammer on. If fashion is more your thing, you can sport this beret and think of Loretta, off in the City of Lights (Paris). If sports action is what you're after, take a look at the football helmet, courtesy of Coach Danner. Just remember, traveling light is usually the best way to fly.