These are all of the Member's Buddies. be on the Lookout for them!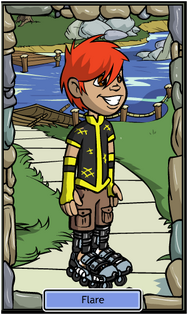 Flare is
Quezziefox
's Buddy. His bio is as follows:
Meet Flare! He lives at 64008-E Powder Horn Circle, Westridge and has been a citizen since September 23, 2007. He is very Observant, a little Athletic, and Generous. His interests include Computers, Painting, and Music. His favorite colors are Red, Red, and Black. In his spare time, he likes to hang out at the Park, the Pizza Place and sometimes at the Arcade. If you want to buy him a CD, his favorite music is Rap, Techno, and Modern Rock.
He is a fairly rich member of Millsberry, totaling in 1,272,459 Millsbucks along with a daily interest of 350 Millsbucks.